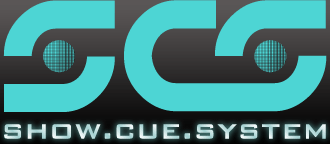 SCS Help Contents
This help file is for SCS Version 11.9.6.
Change history can be viewed at Recent Changes.
IMPORTANT: ALWAYS, repeat ALWAYS complete at least one dry run (a 'dry tech') of the entire show at least a week before the first performance or first dress rehearsal of any show. This is to give you the opportunity to identify and fix any issues ahead of time.
Introduction to the Show Cue System
•How SCS Works - Please read!
•Meter Display and Master Faders
•Changing the Levels of All Playing Cues
•External 'Control Surface' Setup
•Starting and Using the Editor
•Undoing, Redoing and Saving Your Changes
•Production Properties
•Devices
•Lighting - DMX Devices and Fixtures
•Control Send Devices - Network
•Cue Control Devices - Network
•Import Devices from another SCS Cue File
•Cue Types
•Stop / Fade-Out / Release (SFR) Cues
•Copy Properties from another Cue or Sub-Cue
•Copy, Move, Delete or Sort a Range of Cues
•Import Cues from another SCS Cue File
•Export Cues to a new SCS Cue File
•Audio Driver Settings - DirectSound/WASAPI
•Audio Driver Settings - ASIO (BASS)
•Audio Driver Settings - ASIO (SM-S)
•Functional Mode (Primary/Backup)
Miscellaneous
•Portability (transferring your files to another computer)
•Lighting Control by External Fader
Production Live Running
•Setting Up Your Video Projector For Videos and Still Images
Troubleshooting
•Fixing Stuttering or Skipping Audio
•Linked Audio Files Out Of Sync
Credits, Terms and Conditions, Registering