Production Properties - Live Input Groups
Live Input Groups are used with Live Inputs and are therefore only available with SCS Professional and higher licenses, and if you have SoundMan-Server installed.
Overview
Live Input Groups provide you with a way to group Live Inputs so you can quickly add multiple Live Inputs to Live Input cues, assuming you want to use the same selection of Live Inputs in several cues. The use of Input Groups is optional - you can use Live Inputs without setting up any Input Groups if they serve no purpose for your production.
Here's an example of the Production Properties for a single Input Group: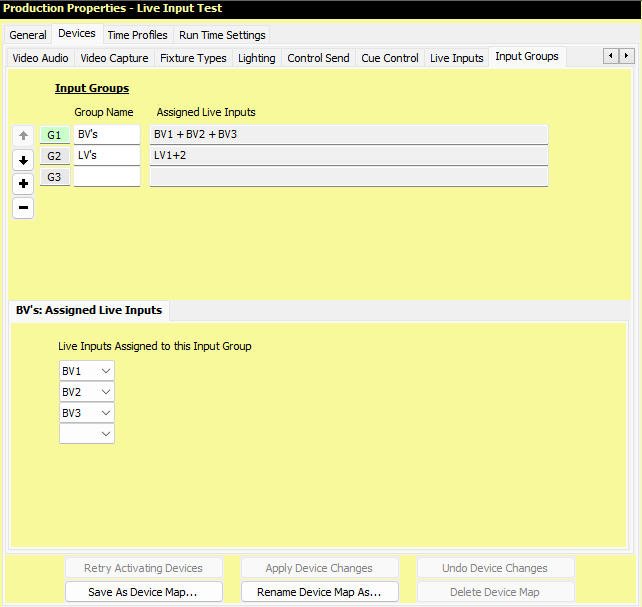 Properties and Controls
Group Number (G1, G2, etc): If this number is displayed with a colored background (eg see G1 in the above screenshot) this indicates this device is the 'current' group for the Sidebar Controls to the left, and for the 'Assigned Live Inputs' panel displayed below the group list. To make a different group the 'current' group, click on any field in the line for the required group, or on the Group Number itself.
Sidebar Controls: Controls are available to enable you to easily change the order of the groups as explained for Audio Output Devices.
Group Name: Enter the name you want to use for the Input Group when adding the group of live inputs to Live Input cues.
Assigned Live Inputs: This is a display-only field which is populated with the list of assigned Live Inputs.
Live Inputs Assigned to this Input Group: Select the required Live Inputs to be included in this group, from the drop-down lists. Note that any Live Input can be included in more than one group, or with none.
---
Device Map Buttons
The buttons at the foot of the tab apply to all device types as explained for Audio Output Devices.
---
< Previous Topic (Live Inputs) | Next Topic (Fixture Types) >